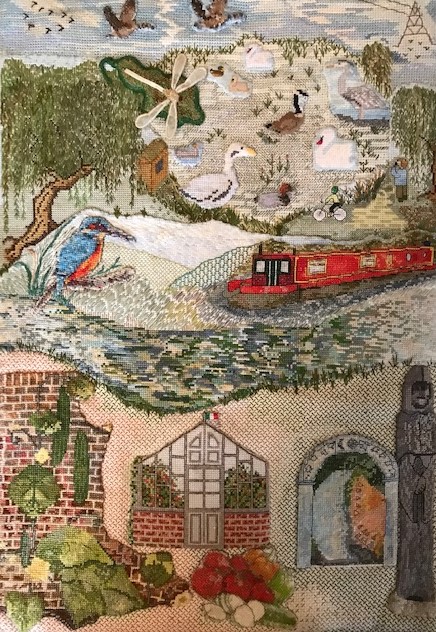 The idea of a Waltham Abbey Tapestry was first considered in 2014 when someone thought, if Bayeux have a tapestry then why can't Waltham Abbey ?
It took two years to plan what could be included in the tapestry, and the end result is ten intricate and detailed panels that form this modern and historic work of art.
Over forty volunteers have contributed to the project.  After six years, 750,000 stitches and 5km of thread, the final piece is on display for public viewing.
Local professional artist, Ilana Kashi, was commissioned to create the designs which depict images from the town's rich history.  Panels include the Lee Valley Park and the Royal Gunpowder Mills, and there are references to famous people of Waltham Abbey including the composer Thomas Tallis and Alfred, Lord Tennyson, who lived for a time at the edge of Epping Forest.
The historic panels go right back to the Vikings and the Legend of the Holy Cross and the images follow the town's place in history throughout the centuries.
The initial project was awarded a grant from Essex Council Council and then the Town Council continued the support.  Before the pandemic, stitching sessions had taken place at the Town Hall, but even this activity became remote during the periods of lockdown.
The photos below depict some of the events from the very beginning through to the launch of the Tapestry in June 2022.
Waltham Abbey Town Council are proud to have supported this local project, created by the community and now on display for all residents and visitors to see.
Below are some photos that depict the life of the tapestry from the very beginning through to the launch June 2022.